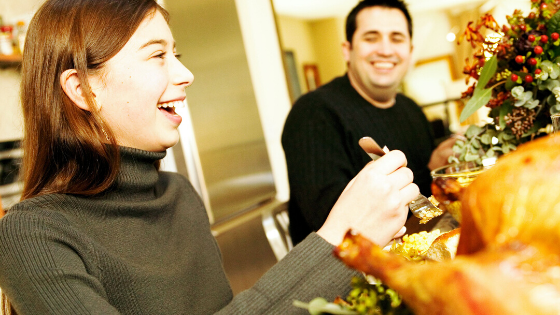 It's that time of year when gratitude comes into the spotlight. Thanksgiving is well known as a time to show your gratitude for your friends, family, and all that you have in life. But, science tells us that the benefits of having an attitude of gratitude can improve our health and happiness beyond the Thanksgiving season.
It's true-Having a grateful mindset can actually help you feel happier and healthier! Studies done with fMRI-guided technology show that gratitude has the ability to boost serotonin and can activate the production of dopamine-known as the feel-good neurotransmitter.
The best news is that gratitude isn't something that's reserved for Thanksgiving. It's a mindset you can incorporate into your daily life. And, even though people express gratitude in many different ways, the impact is always positive. You can express gratitude by volunteering your time or by simply taking the time to tell someone how much you appreciate them.
However big or small your expression of gratitude may be, incorporating it into your daily life can help you build a healthier, happier life beyond Thanksgiving.
Gratitude Can…
Change The Way You See The World
Creating an attitude of gratitude can be a life-changing thing! Gratitude helps let go of aggression and anger in difficult situations. It helps us overcome negativity by focusing on the good things in life. Someone who is grateful can develop better self-esteem allowing them to appreciate others and their accomplishments instead of being resentful or jealous.
Lead To Positivity & Fulfillment
Being grateful also helps develop a positive attitude. Once you start seeing the glass as half full instead of half empty, you can live a happier life. It's been proven that gratitude can help you find a happiness that lasts. Start taking the time to express thankfulness every day and you'll
start seeing the results.
Improve Your Overall Health
Aside from all of the obvious mental health benefits, gratitude can also have tremendous benefits on your physical health. Studies have shown that being thankful can help decrease depression within weeks. Thankfulness can also help people sleep better. If you count your blessings before bed, you will have more positive thoughts and a better night's sleep! Giving thanks can also help you improve your self-care routine. People who are generally more grateful in life appreciate and care for themselves more. 
TMS Therapy for Clarity
Unfortunately, for someone battling major depression, developing an Attitude of Gratitude can be difficult. One of the common misunderstandings about depression is
that it's similar to feeling sad or down. Someone with depression might be accused of being 'ungrateful' or told that they just need to 'snap out of it.' In fact, many people believe that feeling depressed is a choice. That kind of thinking only adds to the stigma
surrounding mental health.
The truth is, depression is a complex medical condition that should be treated as such. Our compassion team at Surya Psychiatric Clinic is here to help you get well
through innovative treatments like dTMS therapy.
Our advanced therapies can help the people of Tucson lift the fog of depression and move forward in health, happiness, and enriched gratitude. As you gather with
family and friends this holiday season, watch out for signs of depression in those you love. Provide support and connection by letting them know about life-changing
treatments like dTMS because there is hope!